Off topics
Hi there,
We want Remeet to be the best way for all remote-first teams to communicate synchronously. So far, most of our focus and success was with condensing scattered and lengthy meetings into one or two daily office hours. For some teams, the impact was so profound that a significant number of people were left practically with no video calls. The unfortunate side effect of this is that it has become harder for teams to have random social interactions and spontaneously generate innovative ideas.
Introducing Remeet off topics
Remeet off topics are video chats that you can use to socialize with your teammates. When you have a break between topics or don't have any topics, you can join one of the off topics and have random conversations with your colleagues.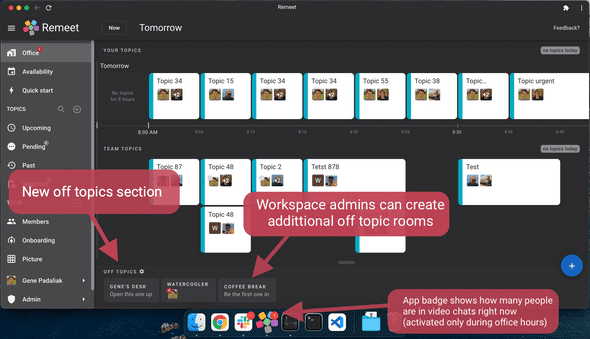 Remeet's existing virtual watercooler feature is now just one of the off topics. In addition, we created an off topic room for every user: "Name's Desk." Workspace admins can create additional off topics (for example one per team) and choose to assign owners.
Off topics without owners
Off topics created without owner(s) are always visible to everyone in the off topics section regardless of whether someone joined or not.
Off topics with owners
Off topics with owners are always visible to those owners, but others will see them only when someone else is already there. For example, "Gene's Desk" on the screenshot owned by me, and others will see it only after I join it. Assigning multiple owners can be helpful when you create an off topic for a team (e.g., "Team's Random Chat").
App badge
During office hours, the app badge icon will show the number of users in all the topics and off topics. This can be helpful to know if anyone might be open to chatting if you don't have any topic on that day.
If you haven't installed the Remeet web app yet, you can find instructions in the integrated "Quick start" guide.
Transparency
While recordings are disabled for the off topics, any workspace user can join any off topic at any time. Even if someone isn't one of the owners, they can still if they know the URL.
Human-friendly and persistent URLs
Links to off topic video chats are persistent, and you can customize them when you create an off topic.
Running daily standup calls?
Off topics can be used to implement daily standups. Create a new off topic with team members as owners and send a regular daily calendar invite with the URL to the created off topic. The best time to schedule a standup this way is 15 minutes before the daily office hour, but even if you schedule it during office hours, Remeet will automatically schedule all the topics around that calendar invite.
Subscribe to Remeet blog