Incredibly fast and efficient meetings
Discuss more topics in less time, consistently get up to 35 meeting-free hours a week, eliminate all the waste associated with manual scheduling

GET STARTED Read whitepaper Whitepaper
One hour in Remeet
=

Two+ hours in your current meeting app

Forget about large team meetings with unrelated agenda topics. Instead, we'll schedule a separate mini-meeting for every topic so everyone can join only relevant topics. This saves a ton of time waiting/multitasking.

As most topics won't require the same people, we'll schedule many of them in parallel.

We'll also automatically move people from one topic to another so that all the meetings always start and end on time.

As a result, all meetings will be very focused and super fast so your team will discuss at least twice as many topics in the same amount of time.
Up to 35 meeting-free hours every single week
We`ll schedule topics close to each other to save your energy on jumping between meetings and tasks (with 5-minute breaks if you prefer).
As a team, you`ll need to allocate some hours on your calendar where we can schedule all the topics. We call those hours sync hours.
If there are more topics than can fit into the sync hours, we'll automatically postpone less important topics to the following week.
With Remeet, meetings can no longer compete with work.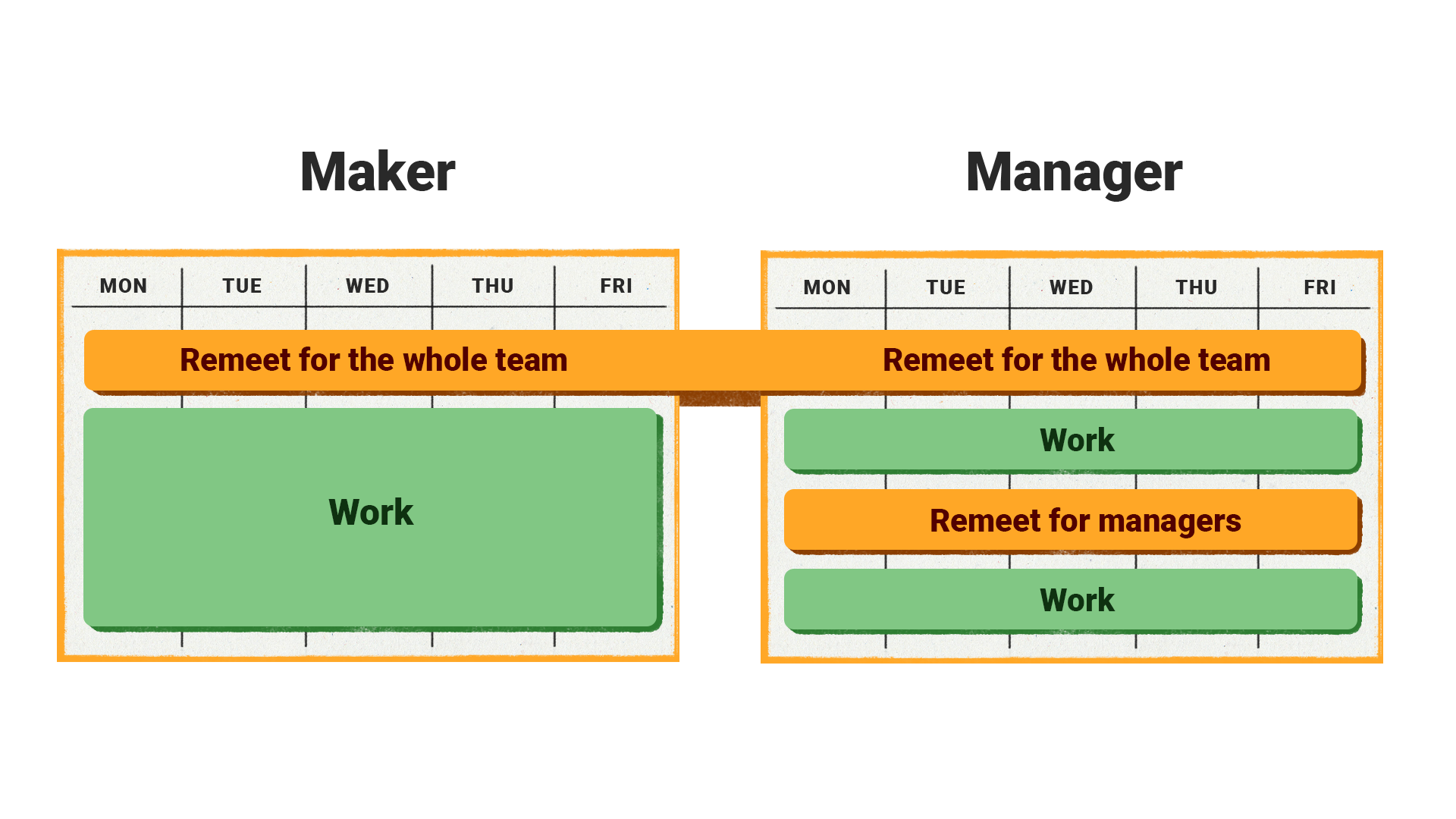 Fully autonomous scheduling (for real)
When a topic arises, figure out who you need to talk to and how long the conversation needs to be, and we'll schedule and reschedule it automatically.
No need to choose a time or confirm availability. When someone takes a day off, they'll just need to block that day on their Google/Office365 calendar, and we'll automatically rearrange all the topics.
You can also prioritize topics to get more important discussions scheduled sooner. We'll automatically postpone some of the less urgent topics to accommodate more urgent.
Prepare asynchronously
In the case of complex discussions, a big chunk of time is usually wasted to get everyone on the same page, as you can't expect people to find time to read any materials in advance.
With Remeet, when you schedule a topic, you can provide all the necessary context and materials for preparation. Then you specify which participants need to prepare before the topic gets scheduled.
Once everyone has indicated they're ready, we'll schedule the topic automatically.
Meeting app that speeds you up
The vast majority of your single-topic meetings will be within a 5 to 15-minute time range. You have to trust our customers and us on this one.
It works through (a) making everyone well aware of time constraints, (b) automatically transitioning everyone from one topic to another, and (c) encouraging the organizer to schedule a follow-up in two clicks when the group is running out of time (instead of forcing everyone to stay longer).
At first, this may feel uncomfortable for some people, but it's like the first month in a gym. The more they use Remeet, the more efficient their meetings become.
Also, integrated note-taking, automatic recordings, transcriptions and meeting summaries can help reduce the number of participants.
Optimize the use of very limited timezone overlap
All the convenient time on the intersection of timezones occupied by unmovable weekly meetings?
With Remeet, you can create sync hours at the intersection of timezones and get the maximum value out of the most precious hours.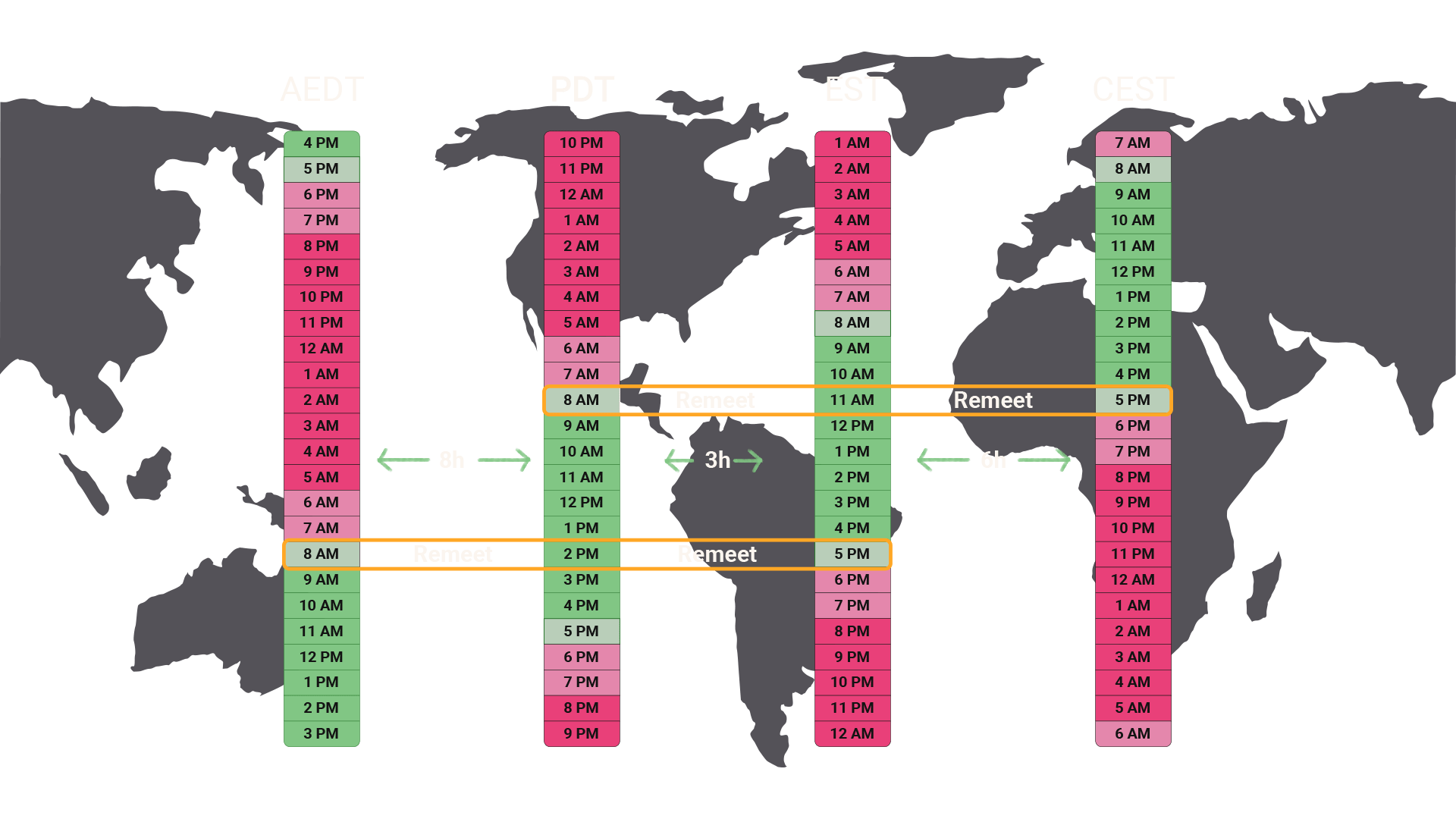 We'll help you onboard your entire team in a matter of days, regardless of its size
Deep integration with team calendars and chats
Google Calendar
Office 365 Calendar
Slack
Mattermost
Google Chat
Microsoft Teams
(coming soon)